Why We Choose AAHA
The American Animal Hospital Association (AAHA) is an international association of more than 36,000 veterinary care providers who treat companion animals. Established in 1933, AAHA is well-known among veterinarians and pet owners for its high standards in veterinary practices and quality care.
AAHA is the only organization that accredits animal hospitals throughout the U.S. and Canada. Approximately 3,000 AAHA-accredited hospitals voluntarily choose to be evaluated on 900 standards in the following areas: quality of care, diagnostic and pharmacy, management, medical records, and facility. Consultants regularly visit these hospitals to ensure compliance with AAHA's Standards of Accreditation for services and facilities.
Established in 1933 by leaders in the veterinary profession, AAHA is the only companion animal exclusive veterinary association. To become accredited, companion animal hospitals voluntarily undergo regular comprehensive evaluations by AAHA veterinary experts who evaluate the practice on over 900 standards of veterinary care and are recertified every three years. These standards cover every aspect of veterinary care including patient care, client service, facility, laboratory, pharmacy, surgery, anesthesia, dentistry, emergency care, diagnostic imaging, leadership, human resources, medical records, business management and more.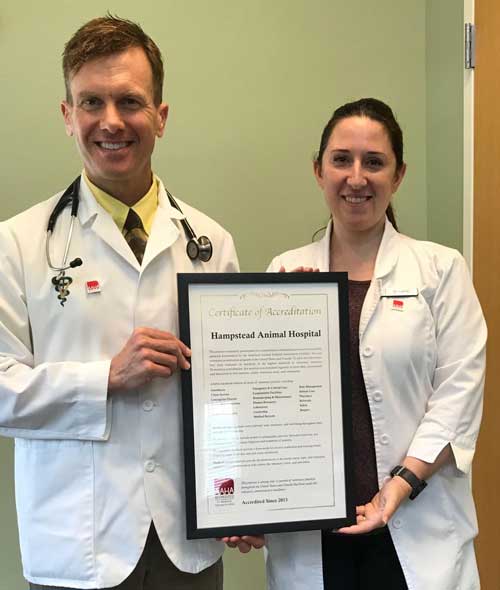 Accreditation is sought voluntarily by only 15 percent of North American veterinary practices. Unlike human medical facilities, there are no consistent national or state organizations, inspectors, or requirements for the delivery of veterinary care to our animal patients beyond the state-level Veterinary Practice Acts, licensing of doctors and credentialed veterinary nurses, and some requirements by the Drug Enforcement Agency and Food & Drug Administration with regards to medications and pharmacy. Seeking accreditation by AAHA ensures that a veterinary practice is evaluating their practice at all levels to be at a higher standard and consistently improving.